Short Courses & Talks
We offer a wide range of short courses and talks for educational professionals who would like to deepen and broaden their knowledge of special educational needs. All courses are taught by experienced experts and offer focused, accessible and practical information based on the latest research and best practice.
For further information about any of our courses or to book a place, please contact Dr. Joanne Fitzsimons :
Email: j.fitzsimons@whitefield.waltham.sch.uk
Engagement for Learning
The engagement model is a free online assessment tool that helps schools meet their duties in supporting pupils who are working below the level of the National Curriculum and who are not engaged in subject-specific study. The model is suitable for all pupils who have not yet met the whole of Pre Key Stage 1 in all subject areas.
15 attendees per programme. Participants are required to complete all three sessions.
The North East London Teaching School Hub (NELTSH)
Virtual Training for staff working in mainstream and special schools
in the North East London Teaching School Hub (NELTSH):
the boroughs of Waltham Forest, Haringey and Redbridge.
This training programme offers a wide range of SEND specialist sessions that aim to improve practitioners' knowledge, skills and expertise in supporting pupils with autism, severe and profound and multiple learning difficulties, dyslexia, dyscalculia, vision and hearing impairments, multi-sensory impairments, sensory processing difficulties and physical disabilities. It includes theory, practical activities, tips and advice on how to manage challenging behaviours, understand the needs of pupils and how to plan for activities using effective teaching and learning strategies and resources.
Book your place at pds@whitefield.waltham.sch.uk
£25 per session or £200 full course fee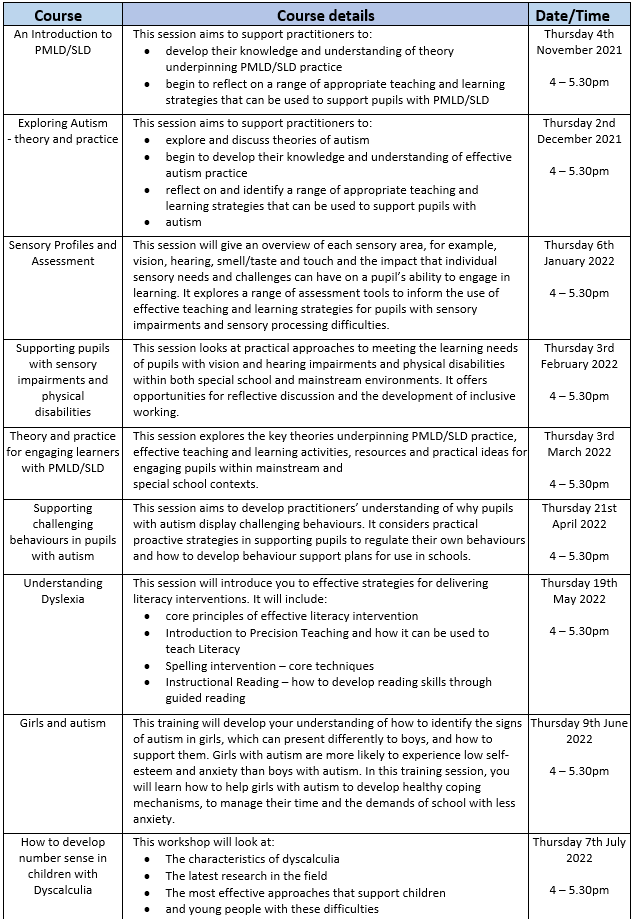 Whitefield-Professional-Development-Services-Training-Programme-2021-2022.pdf
Using Intensive Interaction - Monday 15th November 2021 - 09:30-15:30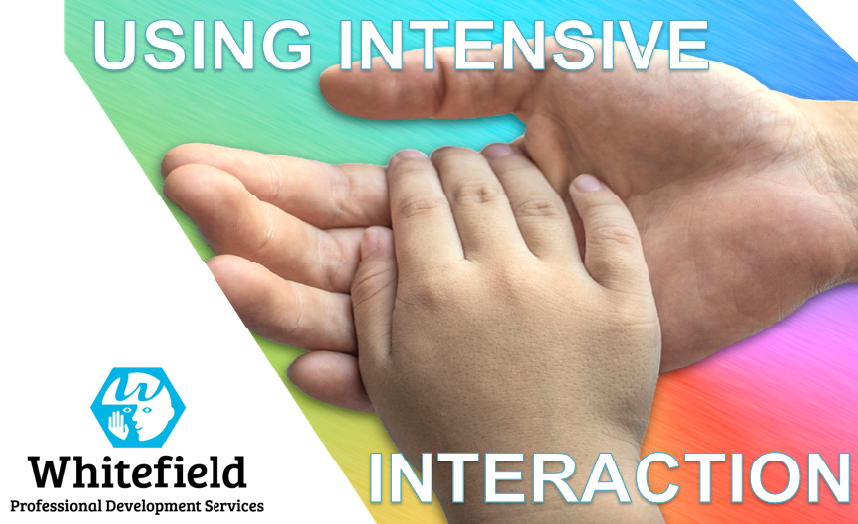 Online course: Monday 15th November 9:30am-3:30pm

After previous successful Intensive Interaction training at Whitefield Academy Trust, we are very pleased to be able to offer an online workshop.
The workshop provides the opportunity for participants to
o Understand the principles and techniques of Intensive Interaction
o Explore how these principles can be used in a range of practical
situations
o Consider the implications of sensory processing issues on our use of
Intensive Interaction
o Establish interactive, respectful and fulfilling relationships with
students in order to promote and sustain their interest in the social and communicative world.
The course is being run by Janet Gurney; Associate Trainer of 'Us in a Bus'

Cost: £110 per person. Booking is essential.

To reserve your place or for further information, please contact Shen Pekkaya